The Majere group was not as unfinished as the others mentioned in the previous posts, but still needs some work. One bigger issue was, that the bridge connection was not set up in the middle of a tile, as you can see here in a Gmax screenshot: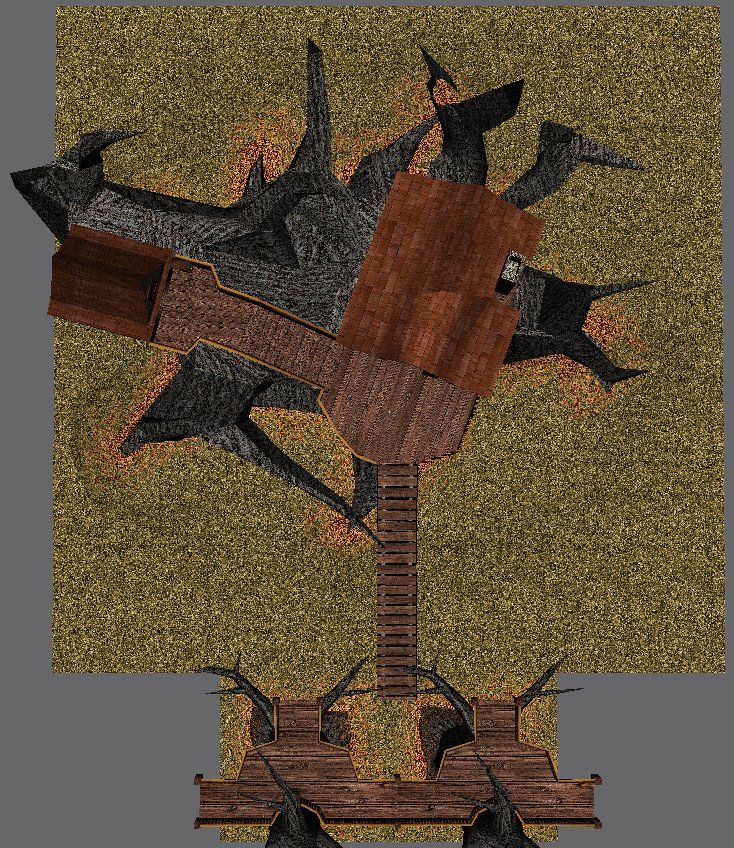 We had the same issue with the Trough group (as mentioned in one of the previous posts) and there was no model/group to make a connection to the rest of the bridge walks. Also, we did not find any evidence on what the DLA-plan regarding these connections was.
Well, Bannor decided, that we don't want an new connection type, but to move the connection, so it lines up with the already available bridges.
That meant some work: Enlarging the platform, adjusting the railings, moving the bridge, and worse: Correcting the walkmesh.
All done! Now all available tree groups can be connected and thus are usable. Majere still needs the "new" root and canopy leaves and some more things, but we're on our way.
Here are some IG screens:
You can also see, that the platform has a "thickness". In fact, it's the only group, which has this! Since it's a "preservation" project, we leave it with this group, even though it's the only one.
The Raistlin model in the screens is used with permission by FeYbraNt & Kracius (Gilean), who create a spanish NWN1-Dragonlance project (= Dragonlance Online / DLO). Thank you!
Additional note...
It's been 5 month, that I last had contact with Bannor and that he logged into this forum. And this "what to do with the Majere bridge" was his last post up to now... I have no information on what happened and I really hope, that he's well and will return some day! All the best to him!
Just that you know, why there are no notes/replies from Bannor up to now.