Progress post 16 (2020): Diagonal Bridges
First of all, I have to catch up on something, which I missed in the post regarding the smithy: Many thanks to Zwerkules, because he took the time to teach me a way on how to cut eg. square window spaces into an existing (wall) plane. I needed that for those "new" windows in the living quarters and my known way would need a lot of vertex adjusting and I wanted to avoid that. (See
http://harvestmoonconsortium.com/forums ... 130&t=2821
for details on the smithy.)
Well, I contacted him and he instantly replied! THANKS AGAIN, Zwerkules!
Now to this new post:
The diagonal bridges are something special (IMO). They are already included in the earliest HAK I have, which dates back to 2003-09-08.
As the name implies, they allow to lay out diagonal bridge walkways. There are 3 parts to this construction: A start (with connected bridges), a middle, which connects 2 diagonal bridges and an end part. The start/end parts have further connection laid out in 90° angle, so the regular bridges (or tree house groups) can be connected here.
Now, with this, you can create a "long distance" diagonal or you connect the end right to the start group and get a "shorter" version.
Here is a toolset screen:
(Remark: As you can see, it shows all possible bridges and tiles, which are used to connect them).
Now the technique behind this is pretty interesting (IMO): If you place eg. the start of the diagonal bridge, it looks like if you're painting a 4x4 group: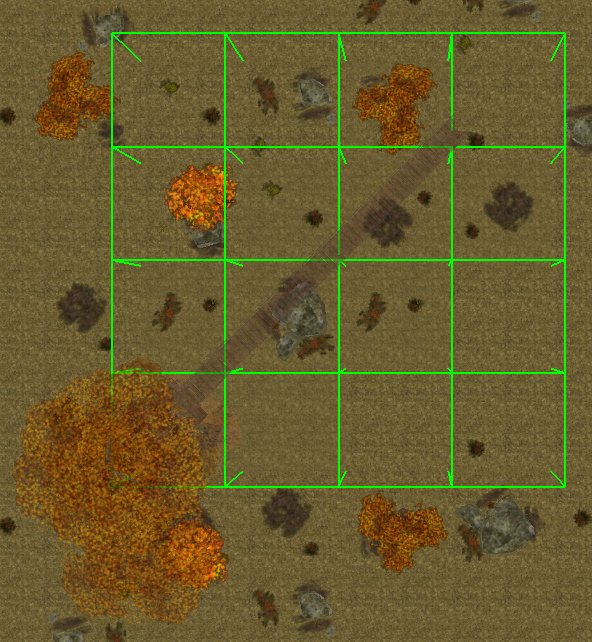 If you look at it in Gmax, you see, that not all tiles for a 4x4 group are included: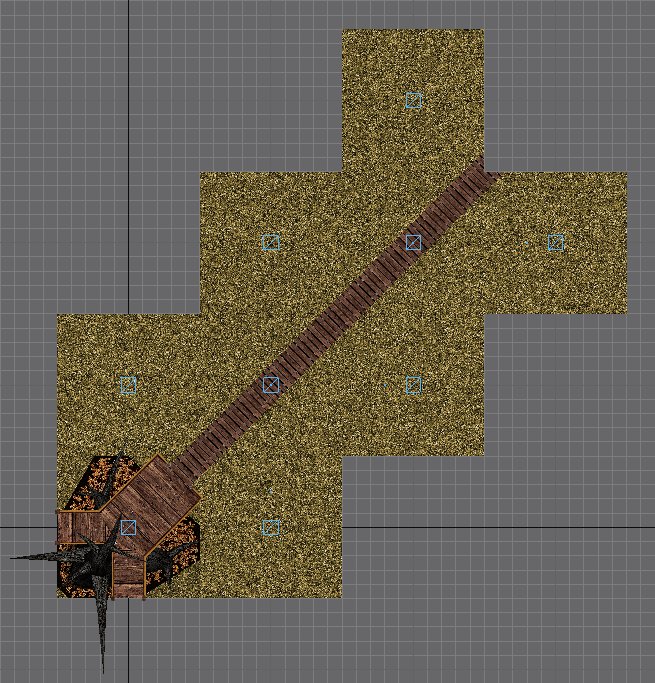 Now the setfile uses these entries to create the 4x4 group in the toolset:
[GROUP25]
Name=gr_Bridge_D_Start
Rows=4
Columns=4
Tile0=485
Tile1=486
Tile2=-1
Tile3=-1
Tile4=487
Tile5=488
Tile6=489
Tile7=-1
Tile8=-1
Tile9=490
Tile10=491
Tile11=492
Tile12=-1
Tile13=-1
Tile14=493
Tile15=-1
Very interesting, these "-1" entries and the results, aren't they?
Here are two more IG-screens: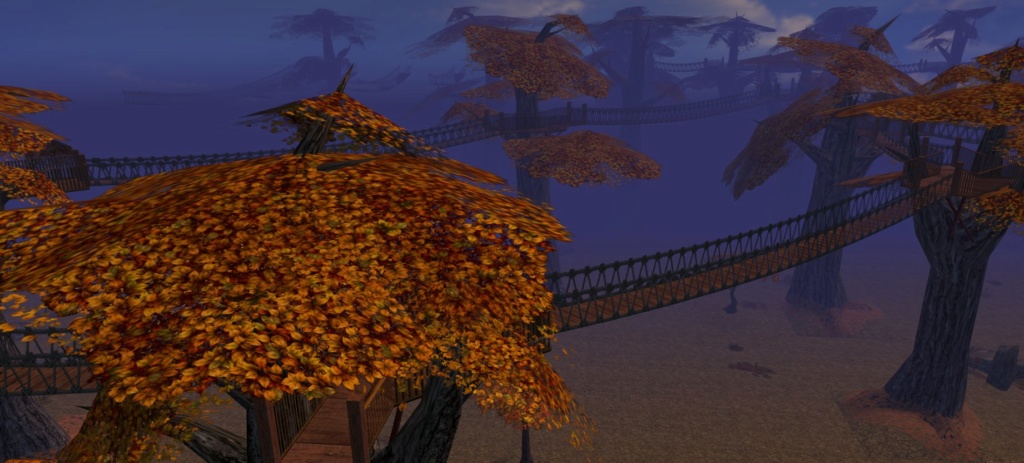 By now we managed to get all bridges up to the same stage as the other models mentioned in the earlier posts, which means, that they're pretty much finished. And meanwhile ALL (larger) trees have the "new" root leaves and canopy. Maybe we add a few more details to the terrain (for the bridge models), like bumps or stones. But that still needs to be decided.
And now, what is next? Maybe supporting GrumpyOldGoat with Meggins? Or start actually the probably pretty nerve consuming process to finalize all models? Seeker definitely needs more windows… We'll see!